LLAME GRATIS | Para Inglés 1-855-534-5340 | Para español 1-855-534-5342 | Local 52-322-29-72077 | SKYPE- IVFvallarta
Más información acerca de LIV Centro de Fertilidad...
NOTICIA: LIV a la vanguardia en medicina reproductiva, con la adquisición de licencia de laboratorio para MicroSort® Mexico (Leer más abajo)
Un tratamiento invasivo no sólo puede acarrear temor, sino que además el manejo del tema económico lo transporta a otra dimensión de sensaciones desconocidas. Nuestro equipo se esfuerza continuamente por implementar nuevas tecnologías de infertilidad, así como de una estructura gerencial para dar la bienvenida a los pacientes en su camino hacia la búsqueda de la paternidad.
Dentro del Centro de Fertilidad LIV en Puerto Vallarta, los especialistas en repdorucción ofrecen un enfoque integral en el tratamiento de una amplia gama de trastornos de infertilidad. Dirigido por distinguidos especialistas en fertilidad, el Dr. Francisco Vélez, LIV proporciona acceso a médicos expertos - que están formando la próxima generación de médicos especialistas en fertilidad, quienes ya moldean el futuro de la medicina reproductiva. Nuestro prominente equipo de fertilidad permite a los futuros padres tener la oportunidad de respirar y encontrar esperanza donde no la hay.
MicroSort® en México
La principal clínica de fertilidad en México, LIV Fertility Center, es ahora el único laboratorio autorizado para el servicio que proporciona MicroSort® México - la corporación de tecnologías de selección de género potencia las posibilidades de tener un bebé del género deseado durante las tecnicas y procedimientos de reproducción asistida (ART). Con la llegada de los nuevos equipos a las instalaciones de LIV este mes, el equipo de LIV espera integrar la técnica del equilibrio familiar con sus propios servicios de fertilidad.
Para convertirnos en el único laboratorio con licencia para ofrecer MicroSort® en México, este fue un paso progresivo y gratificante para nosotros aquí en LIV ", declaró Tolga Umar, CEO y Fundadora de LIV Fertility Center. "Estamos muy entusiasmados con el trabajo duro que supuso la adquisición de la marca MicroSort®, y tremendamente emocionados por ofrecer a los futuros padres de todo el mundo este avanzada y exitosa tecnología dentro de nuestra propia clínica. Estamos particularmente interesados en que nuestra inversión continue no sólo en el futuro de nuestros pacientes, sino también en la industria de la fertilidad".
Clínica de Fertilidad LIV en Puerto Vallarta
Nuestro cálido y acogedor centro de fertilidad ofrece a los pacientes comodidades e instalaciones modernas. LIV Fertility Center se identifica con estilo, con un impresionante complejo de mejoras y tintes de modernidad - que destacan por su logotipo de marca único, el cual acentúa la experiencia LIV. Los fundadores de LIV pensaron en instalaciones donde los pacientes podrán recibir atención integral en un solo lugar.
El laboratorio de clase mundial se creó precisamente para mantener la innovación puntera en fertilización in vitro (FIV), transferencia de blastocistos, congelamiento de embriones, eclosión asistida y diagnóstico genético preimplantación (DGP). Operando 365 días al año, LIV Fertility Center ofrece atención de primer nivel al paciente - una parte integral y medular de nuestro enfoque humano y respetuoso dentro de la atención médica.
El Tratamiento de FIV más Avanzado en México
En LIV, nuestros especialistas en fertilidad son algunos de los más reconocidos expertos en la materia. En LIV Fertility Center creemos en un enfoque de trabajo en equipo para contribuir positivamente a la vanguardia de la medicina reproductiva. Confiamos en nuestros múltiples y complementarias disciplinas médicas las cuales le llevarán en su experiencia futura, a un embarazo positivo. Nuestros especialistas en reproducción personalizan la experiencia del paciente y se empeñan en compartir con usted los consejos médicos. Tanto dentro como fuera de la clínica - LIV le brinda la confianza para explorar y disfrutar de una experiencia íntima en Puerto Vallarta. La misión de LIV Fertility Center es proporcionar asistencia en el campo reproductivo que sea accesible, fiable y eficaz a aquellos a quienes servimos en todas las distintas facetas médicas alrededor del mundo.
Opción Exclusiva FIV-FET
El Centro de Fertilidad LIV en Puerto Vallarta se enorgullece en presentar una opción exclusiva de FIV-FET para los futuros padres. ¿Qué incluye? Si su primer intento de FIV no tiene éxito, nuestra opción de FIV-FET (fertilización in vitro -transferencia de embriones congelados) cubre cualquier futuro ciclo hasta que se usen todos los embriones congelados restantes. (** Garantía excluye la medicación y la preparación del endometrio)
Conoce a Nuestro Equipo Médico LIV
El Dr. Francisco Vélez Pérez - Director Médico, Endocrinología Reproductiva e infertilidad.
El Dr. Vélez, ofrece una atención integral, tanto para los pacientes de fertilidad femenina como masculina. El Dr. Vélez es un experto en el tratamiento de infertilidad, incluyendo la fertilización in vitro e ICSI, así como la crio preservación de óvulos.
Emb. Karla Martin Del Campo Ruíz - Embrióloga
Emb. Karla Martin la directora del laboratorio del Centro de Fertilidad LIV en México. Con amplia experiencia y dominio de habilidades y técnicas, Karla ha ganado una reputación ampliamente reconocida por su excelencia.
Confía en LIV. — Nosotros confiamos en ti.
Obtenga una Cotización GRATUITA
Reviews
We had an amazing experience here and were well taken care of. This is an amazing team and group of people here. They make you feel like family. It's not just that they know you by name when you walk in the door, or your medical history, they know you personally. Doing fertility treatments treatments is not for the faint of heart. This is quite the journey. These group of people, the doctors, the nurses, the medical staff, billing, reception, therapists, all of them, are kind, caring, and compassionate. We read the reviews before we went there and saw how great their services were from other people. We also noticed their high success rates. Well now that we have had the chance to see it first hand we are happy we chose them. We now have 6 embyro's waiting for us for implantation. We are looking forward to coming back for implantation. Thanks so much team! We look forward to coming back in July/August. 🙂

These are some of the most amazing people you will ever work with. They offer nothing less than VIP service at every step of the process. I have never received this level of care and treatment at any medical facility in the United States. And Dr. Velez is an extremely talented and knowledge doctor. He is a perfectionist as well, which shows in his success rates. We highly recommend this clinic to anyone looking to conceive.

Excellent experience with LIV Fertility. We absolutely love each person who helped us. Receptionist, office staff, nurses, Embryologist and doctor were all incredibly professional and answered all of our concerns. My husband and I will definitely recommend LIV, not only are they incredibly professional, knowledgeable and caring. They treat you as if you are part of their own family. I have to say it was the best decision we could have ever made. We love each and ever one who helped us ❤️

My husband and I got married late in our age. I was 36 years old and he was 49 we both did not have any children from previous relationships. We had tried IVF in California, USA that was not successful and very financially draining and caused us financial hardship. Due to my age and with one ovary the cost for medication was outrageous. We had to wait a couple years to save for another try. We searched the internet and came across VisitandCare.com. There were several options that they sent to us but staff that we spoke with at LIV was very genuine and helpful. Why we selected LIV fertility clinic Dr. Stetson was very patient with us and took the time to explain the positives and the negatives about our journey. Alonso was our coordinator and was always available by email or phone. He had a great personality and put us at ease if we had any type of concerns. Overall I give LIV Fertility Clinic five stars for top tier medical advice, timely treatment, professionalism and most importantly, for delivering results. Thank you to science and love we had 2 beautiful twins (boy, girl). First impressions: the front staff of the office is warm and inviting. They were very professional and courteous. Medical care/advice: My medical team was very responsive. They went above and beyond to address all of my concerns during treatment. Karla the embryologist gave us daily updates on our embryos. Cost: The investment of time, emotion and taxation on my body was worth every penny. They were affordable for our budget. Now that I am 47 and my husband is 60 we can relax and give our full attention to our little ones that we cherish so much. Thank you Dr. Steton, Dr. Perez and LIV staff.

WOW, Where do we start… My husband and I struggled with infertility issues for 5+ years. We had tried IUI for 4 months in our home state and sadly it never worked, in 2016 we decided to save and save some more to be able to afford IVF and a nice vacation for this process. Of course the first thing was to find the right place to travel to, and that's when we came across this AMAZING CLINIC. LIV Fertility Center was our miracle path for us to start our family; first we researched the clinic, read reviews of people like us that went there chasing a dream just like we were. When we finally agreed to call and set up an appointment our first impression was beyond our expectations, Dr. Stetson and Dr. Flores got on a call with us right away, we explained what we were dealing with and it was instant that we felt like they understood us, they both answered our questions and doubts, and provided us with all the information needed to start our Journey, honestly we didn't look anymore after talking to these two great doctors. We scheduled our visit, I am so thankful for Alonso, he was able to handle all of our questions after scheduling our visit and he dealt with me time after time before our arrival to the clinic, every time I emailed him, his response was so fast, I was never worried about getting a hold of them. The day finally came and we were so excited and so nervous, but it all went so smoothly, we got so close to the people that we met at LIV, starting with the Doctors again, Dr. Stetson and Dr. Flores were so welcoming, I was lucky enough to start our stimulation shots that very same day of our visit, Our nurses were INCREDIBLE ELI and ANITA were such sweet ladies, Eli walked my husband through the procedure of taking the shots so that he could do them for me back at the hotel on the days we were not at the clinic, Both Eli and Anita always made me feel so comfortable, they were both so caring and gentle. Esther and Vanessa were also a great asset, coming into the clinic felt like family were there expecting us, these two girls make it so easy for you to come in and they welcome you with a smile each time, they would constantly ask how we were doing and feeling. Karlita which is the lab director would email us every day on the process of our embryos, every step at LIV was being followed with such care and priority, not once did I have to check in with them because they were keeping us update every time, Our Transfer was done by Dr. Velez and Dr. Stetson. I felt so comfortable both on the day of retrieval and day of transfer, I felt safe, and these Doctors did everything in their power to make us feel like this. My favorite part of all was Dr. Stetson being able to respond to my texts with any concern or question I had, this was throughout the process and after we came back home, this really made us feel so cared for, We cannot Thank Liv enough for the amazing help they provided us with. We strongly encourage anyone struggling with infertility to give them a chance to be part of your journey; I feel like God put them in our path, they are a bunch of professionals that felt like a family, Wish we could give them more then 5 stars on this review. We just got our first positive blood test, so THANK YOU LIV, THANK YOU for helping our dream come to a reality. With Love... Lizeth & Ivan ♡

When my husband and I started researching clinics we were mostly looking at data: success rates, costs, staff experience, etc. The LIV Clinic has all of those things, but they also have a staff that makes you feel like family. The hospitality and genuine concern of the entire staff is invaluable. Knowing they are there to help every step of the way makes the journey much easier. What we discovered was that the measurable things were what made all the difference. Thank you LIV for our wonderful experience, we are blessed to have found you. You have forever changed our lives for the better.

The Doctors and Staff at LIV Fertility Center in Puerto Vallarta changed my life for the better. I want to share about how positive my experience has been in order to offer hope to other women. I sought help from LIV Fertility Center for Oocyte cryopreservation (egg freezing). I am 36 years old and I still do not know whether I want to have a biological child or not. I am someone who really values options. It is an incredibly expensive procedure in the U.S. and a very affordable one in Mexico. I am so happy that I did this. This was a very personal decision that ultimately brought me tremendous peace of mind. I want to let those of you who may not know that there are affordable and safe options for fertility outside of the U.S. There are so many choices in this world that are more accessible than many of us think. I only became aware of this in the last 6 months and I am so grateful that I did. i do just want to mention that the medication prices were more expensive than I had anticipated so just speak with the doctors initially to get a better approximation if you have any financial concerns. This was and is a really big deal to me and I really want to express my gratitude openly. The Doctors and Staff are incredibly professional, helpful and highly qualified. They took such good care of me and I highly recommend working with Dr. Stetson and Dr. Flores. The staff are so friendly and were always available for any of my questions or concerns. The treated me with the utmost respect and compassion. The facilities are better than many of the medical offices I have visited in the U.S. I could not be more pleased with my decision. Thank you so much LIV Fertility Center in Puerto Vallarta.

I am a 43-year-old woman that had a tubal ligation 15 years ago. We decided to use donor eggs from the LIV Fertility Clinic. We were first in contact with LIV from a Google search for a fertility clinic in Mexico. There were a few of clinics we were researching in Mexico from website searches to phone calls. We determined the LIV fertility clinic was the one for us because their staff was friendly, knowledgeable, and patient with all of our questions. There were several reasons why we chose the LIV fertility clinic but the main reason was they were more interested in making us feel comfortable over the phone and through email; the subject of money didn't come into our conversations until we made our decision. We didn't feel pressured to send money to Mexico. This was important to us as we are international patients. Other clinics we were in contact with wanted a deposit right away. The physical location of the clinic is wonderful. With the sunshine and the beach, our experience was amazing. The clinic is located within the hospital. The atmosphere, cleanliness and professionalism is top notch and is equal to what I had experienced at home in Canada. Our first contact was with Alonso. He is an amazing person and answered all of our calls with multiple questions, sometimes twice a day for a month, till we made our decision. He not only helped with fertility questions but also which hotels to stay, what amenities were close by and cultural information about the area. Once we arrived at the clinic, Dr. Stetson was our main contact. He is very professional, thorough with explaining the steps required to prepare for the transfer and answered all questions that we had. He is very personable, has a great sense of humor and made us feel comfortable and welcome at the clinic. Dr. Stetson was with us during the transfer and kept the mood light with playing music I requested "Country" and keeping us relaxed. Dr. Flores looked after all of the medical procedures from the ultrasounds to the transfer. He explained how my body responded to the medications and how the donor eggs had developed after fertilization. He was very patient with us and answered all of our questions. During the transfer, he explained what we saw on the ultrasound screen and told us what to look for when embryos were transferred. He was very gentle with the insertion of the catheter and no anesthetic or freezing was used. After we returned home, we were in close contact with the clinic for the first 12 weeks. It was great to have the support of the clinic during this time with any questions or concerns that had come up. Our transfer was successful on the first try and we are due in August 2017.

What can I say about LIV? From the moment you walk in until the moment you leave you're treated like family. I started my infertility journey in Canada where I was treated like nothing more than a number and a pay-cheque. The difference is incredible. The doctors and staff at LIV are incredible people who go above and beyond for their patients. My journey with them has only just begun and I am so happy to have them be a part of it.

Our fertility journey began early 2016 in Alberta, Canada, where my wife and I were working with a clinic to prepare for IVF treatment. After a few months of working with that clinic, my wife and I simply felt that something was missing from our experience. So, we started to research International clinics, and found LIV Fertility Center. From day one, our relationship with LIV has been nothing short of efficient, supportive, and comforting. Within one hour of emailing the clinic, Cinthya (Journey Coordinator), called me, and was able to answer all my questions. Shortly after, we were able to Skype with Dr. Flores and Dr. Sonny, which quickly resulted in my wife and I saying "this is the clinic for us". The doctors kept close contact with us, and readily answered my long stream of questions. Also, we naturally had reservations about traveling Internationally for these procedures, but we were put at ease as we got to know our Doctors and tour their beautiful facility. Going through such a personal and special experience it meant everything to have Doctors and support staff who were truly invested in helping us add to our family. Dr. Flores and Dr. Sonny are truly passionate about what the do, and that comes through in every interaction. We will be forever grateful to our Doctors, Nurse April, and all the staff at LIV Fertility Center.

We found Ivfinmexico on line and were a little cautious about traveling outside the US for IVF treatment as we've been used to seeing doctors in the US, over the past 3 years. There was no need for caution as we could not have had a better, more attentive and caring experience from all the medical staff. We felt very comfortable every step of the way. We are so grateful we found Dr. Stetson and Dr. Flores. They made us feel very welcome and patiently responded to our questions. They both went the extra mile and made themselves available to us any time of the day and night. The IVF clinic uses the latest technology and the doctors and embryologists have incredible expertise in the world of fertility. My husband and I couldn't been happier with our choice. From the moment I began emailing Gisela, inquiring about IVF procedures to the moment we left Mexico, every step of our journey was made stress free from the team. My husband and I turned the medical trip into a mini honeymoon! We fell in love Puerto Vallarta. Everyone was extremely friendly and helpful. We only wish we came to the IVF clinic in Puerto Vallarta a long time ago! You have made us a family and my sleep is suffering due to sheer excitement as I can't wait to meet our baby boy!!

This holiday season I have a lot to be thankful for. Of course I'm grateful for my wonderful family and friends but I would like to give special thanks to Dr. Flores, Dr. Stetson and the amazing staff at LIV Fertility Center in Puerto Vallarta, Mexico. After years of trying on our own (without success) to become parents and hearing all the empathetic "it will happen" or "miracles happen" we decided to start our treatment for infertility. Our journey began with regular doctor visits then specialist visits then finally a referral to a fertility center. We went to several fertility centers in and around Portland and at each one we were ushered straight to the financial advisor each time prior to any visit with a doctor. We were given several estimates as far as costs, all of which were far beyond our economic means. We were told that conceiving children would never happen for us naturally and our only option was IVF. We became discouraged and decided to take time and think about our options and process our devastating news. We took about a year before we started our search again and it was during a casual conversation with my sister on the issue she suggested we look into international IVF clinics, surly somewhere offered IVF that was affordable. I contacted five international clinics, two in Mexico. Out of all the clinics I emailed, four responded but only one had a representative call me and leave a message on my voicemail. Alonso was really nice, informative, and wished us luck on our journey to parenthood. So I called him back. We spoke several times and he emailed promptly answering any and all my questions. I researched two final clinics: their success rates, patient experiences, credentials and final costs for each possible procedure we would have to go through. I picked LIV because I had a good feeling about them and once we began the process my relationship with Alonso became much closer as I constantly called and emailed him with more questions, concerns and for advice on travel arrangements. He always called me back and was always so friendly and informative, I truly felt comfortable in our decision to go with LIV. We were able to Skype with the doctors prior to visiting and everything was laid out on a calendar of events and all costs (including medication) was explained before hand for us to budget. They made the process easy and made us feel like family working together for the same goal, and not just a number. Our visit to Puerto Vallarta was surreal: it was a vacation where we focused on us and not work or every day life. It was a paradise setting that helped us relax and enjoy our IVF process as a joyous occasion instead of the pressure of our fears and worries weighing down on us. We absolutely love Dr. Stetson and Dr. Flores as well as the entire staff at the clinic. We joked, laughed, cried, hugged and thanked them time and time again during our IVF process. They encouraged us, gave us advice, worked with us every step of the way and even said a prayer. Which really meant the world to us since we were looking for doctors who really cared and wanted us to be parents as much as we did. We ended up transferring two blastocysts that stuck, became embryos and now 14 week fetal twins I'm successfully carrying. We have really been blessed and we are truly grateful. There really isn't enough I could say or write about these doctors or our experience that fully expresses our feelings of gratitude for them or the whole experience. So if you are reading this long Facebook post and have been searching for the right IVF clinic for your infertility treatment, please give LIV a call or email. I promise you will have made the right decision. If you have any more questions about our personal experience feel free to FB message me privately and I would be more than happy to answer any questions, I know that infertility can feel lonely and that no one understands but I do. And THANK YOU, LIV Fertility Center... I wish we could do more to show our gratitude for having you in our life.

Very excited my wife got pregnant on the first attempt. Very happy with the results. Dr. Flores and Dr. Stetson have been very helpful. I recommend, highly recommend, LIV Fertility Center.

Perfect Location. Charismatic. Excellent treatment, very professional, personnel is very attentive and very friendly. The clinic is very clean and comfortable. Working with the doctors at LIV, you feel at home in a friendly environment and they inspire a lot of confidence. They explain each and every step of the procedure thoroughly. They are bi-lingual and can communicate perfectly in English or Spanish while being firm and clear. The difference between this fertility center and others we have visited is the fact that the doctors and staff at LIV Fertility Center care about our necessity and they assist us each step of the way. We recommend LIV Fertility Center 100%.

When my husband and I found out we had to have IVF we thought it would be a long time before we could afford to do it. When we found the LIV Fertility Center, it was a miracle for us because with their prices, we could start the journey of becoming parents much sooner than we thought. From start to finish, I felt so taken care of by everyone at the clinic. The nurses and the staff always greeted me and helped with anything I needed, and you knew that the doctors really cared about your well-being. I could contact them any time, and they were always happy to answer all of my many questions. What started out as being a scary experience, they turned into a wonderful journey. As I left the clinic for the last time, I didn't know if I was pregnant or not, but I felt such a gratitude for everyone there no matter the outcome. I knew that they did everything possible for me, and really cared for me. I am so grateful to them for that. And now, because of that wonderful experience in Puerta Vallarta, I am pregnant for the first time, with TWINS! Thank you LIV Fertility Center! We just got back from the doctor and we were told everything looks really good. Both babies have their own placenta and were wiggling all over.

We are pregnant! (Chad and Laura are 24 weeks pregnant)

Hope and Closure. Like most couples.. My Wife and I have read almost everything on the Internet/YouTube in the last year regarding IVF challenges for woman over 40 using their own eggs. When we went to local IVF clinics in the United States we listened to very sterile and unhopeful conversations from Physicians that were not at all interested my wife's attempts regarding the use of her own eggs; no matter how important it was to us. Pragmatism without Humanity *This was the key necessity for helping her/us in accepting her/our own reproductive success or closure. I can't say enough about Dr. Stetson and Dr. Flores enthusiastically assisting us through this process hoping for the long-shot percentages regarding our success. The Doctor's qualifications are Steller. Yes the U.S. and American Trained Doctors speak excellent English here.. lol If your willing to take the gamble that has less that 10% success rate on this procedure and are able to absorb the cost to gain the rewards of success or closure: We would highly recommend it! The IVF coordinator Alonso that got us here. Wow! Alonso is a unbelievable professional. His knowledge and bare bones explanations of procedures in IVF feild are well explained, comprehensive, and accurate. We thought we drove him nuts with questions we kept learning online that he always answered with his practical knowledge of the IVF procedures, processes, and protocols. He knows as much if not more than anyone in the industry. Sorry Doctors. Alonso helped us with a rather spontaneous trip to Wonderful Puerto Vallarta. If your wondering if the Vacation Environment Helps. YES:) Nothing like the Quality Entertainment and Natural Environment here to help with positive state of mind. Every detail was completed in a very short time. We were received at the airport with banner sign for our transportation that brought us right to an amazing Bed and Breakfast. You will never feel lost! I can't say enough about the people at the Bed-and-Breakfast. They treated us like family. The IVF process took more than a few days. The environment at that bed and breakfast sure made our stay and process comfortable. We were absolutely catered to. The accommodations are no accident! LIV has these things well thought out and knows exactly what each individual needs and what they are going through in this process, care, and treatment plan. This comfortable private setting helped us through all of it. *And it was unbelievably affordable. :)$:) Due to our spontaneous trip a lot of our medical prerequisites we're not completed and in hand. No thanks to Arrogant American Physicians and thier Labs that were totally uncooperative in forwarding information that was politely and professionally requested right in front of me by LIV. *By the way... Don't be surprised to find out that your American test are less than accurate. Each Physician in Puerto Vallarta that we met were unbelievably professional, intelligent, and friendly. Our advice to anyone coming here is to complete any of your medical exams and labs right there in Puerto Vallarta. They coordinated very quickly, comprehensively, and professionally within an extremely brief period of time. RESULTS IN THE SAME DAY MOST OF THE TIME. *And at a very affordable price :)$:) The San Javier Hospital is New, Modern, and Clean and their staff treats you like you were at a five star hotel. We met with Mature Physicians, Nurses, and Technicians that were and are clients of LIV. Bulging Bellies, Pictures, Enthusiastic Stories, and Smiles that prove LIV was indeed successful for them. Nothing better than meeting real people who have been successful in this endeavor at our age. Yes.. In Mexico and Latin America like the U.S. many career professionals have postponed family that now have them running against time. Today's advancements now make possible to remedy our reproductive challenges and it worth the process.

I recommend the LIV Fertility Center to anyone considering IVF abroad without any reservations. After countless IUI's and failed IVF's over 6 years in the USA and Asia, we had just about lost hope that we would ever conceive. Like many of you reading this post, my wife and I googled IVF in Mexico and found Dr. Horacio Vega, LIV Fertility Center. In December of 2012, we filled out a request to receive information and were contacted by Gisel Soriano, Coordinator. Although, I speak fluent Spanish, my wife only speaks English. Gisel is Bilingual, speaks fluent English and this eased any of our concerns. Gisel was heaven sent. She was professional, kind, patient and very knowledgable. She answered all of our questions and responded to emails promptly. We felt like Gisel and Dr. Vega were ethical people we could trust. And you just can't beat their prices! We decided to give IVF in Mexico a try. Dr. Vega reviewed our medical records and lab results. After carefully studying our case, Dr. Vega felt confident we were good candidates for IVF. Gisel coordinated our treatment based on my wife's cycle, assisted us with obtaining and filling RX prescriptions for fertility meds and provided us with plenty of recommendations for hotel accommodations. In the Spring of 2013, we flew to Mexico for the procedure. Gisel contracted a driver to pick us up at the airport, take us to our hotel to check in and then to our first appointment. Dr. Vega, Gisel and staff provided excellent medical care and a wonderful IVF experience. We returned to the states and 2 weeks later, we received the wonderful news that my wife was pregnant. We are happy to announce that in November of 2013, my wife gave birth to our healthy and beautiful baby girl. We are so happy and feel so blessed to be parents. We are not trying to sell anyone on Mexico or this particular clinic. We just felt that American clients might appreciate hearing a testimonial from someone they can relate to. We will be retuning to see Dr. Vega later this year at the new, state of the art clinic in Puerto Vallarta for another round of IVF. Our baby girl can use a little brother or sister. Good luck to all of you reading this and may God bless you on your journey to parenthood.

As anyone who has been down the road of IVF planning, it can be a very emotional process. Ever since I first made contact with LIV, I have been impressed with the genuine care and support that the staff have provided. From my first phone call with Alonso , to my first meetings with Gisel and Zaida, up to my consultations with Dr Stetson and Dr Pena, I have been treated as a valued patient, not just a number. Unlike in the US, where fertility has become a business and patients have become statistics, at LIV I feel more like a part of the family. Although I am still in the early stages of this journey, I am grateful to all the staff for their continued support and encouragement.

My experience is very good so far. Special thanks to Juliet Romeos. Every time I call her she always find time to call me back and she give you good advise. I have to say I talk with one of doctor and he was proffessally. I am very impress and that is why I choose them

My husband and I have been working with Gisel and LIV since June this year. We had our first transfer cycle almost two weeks ago so we still aren't sure of our results just yet, but I really wanted couples to know how much they can trust LIV and how wonderful Gisel is in guiding you through the process; not just payment, but medical questions, prescriptions, even where to stay! We are having our bloodwork done this week, so we are keeping our fingers crossed, and even if this cycle does not work, we are still so grateful for everything Gisel and LIV have done for us!

From first contact to procedure completion and beyond, the interaction with all staff was amazing. They are extremely attentive to your questions and concerns, every call, text and email was responded to within minutes to a hour - many times speaking directly to Dr.Vega. Everyone at the clinic is deeply invested in the successful outcome of your procedure, very caring and compassionate. You will always be greeted with a hug, a friendly smile, a concerned question as to your well being. The clinic itself is located in a very nice, modern hospital on the top floor and is extremely clean and well thought out. The staff all speak English to varying degrees with front desk administrative assistant Zaida providing excellent translation skills with the clinical staff who do not. If you have need of using donor eggs, you will be provided an extensive bio with pictures upon your choosing of one or more donors and the same goes for sperm donors. We had gone through the Colorado center for reproductive medicine years before and were extremely disappointed in our experience - cold, clinical, we saw the original doctor once during initial visit and only clinical Staff for all treatment, diagnostics, etc after, any questions we had went through the doctors administrative assistant and response times varied between 6 hours to three days. The focus was on up selling services and money - not the person , not the family you were trying to create. After our procedure at LIV, back home when questions, concerns and issues arose we received immediate (even late evening and weekends) texts, calls and emails and nearly always were connected with Dr. Vega to discuss the issue. Other clinics, once you're done with procedure, direct you to contact your gp or ob/gyn. We still email and call if we have questions or symptoms we are worried about, and this is over 5 weeks later. Gisele or Julieta always respond with kindness and concern , Dr. Vega always responds with medical guidance. The lab director, Karla, is deeply committed to your embryos and truly mothers them through each moment of life - she will even provide you with pictures of your growing embryos with dates on high quality photo stock. We would absolutely recommend others to contact LIV in Puerto Vallarta and plan to use them for all ivf procedures.

Professional facility with a personal touch! Great team, looking forward to working with them on a positive pregnancy result.

What a professional group of people. My experience was great . Starting from Gisel to any one that came in contact with me has been nice and considerate. Thank you Ana, Zaida , Doc and Elizabeth. Thank you

I was treated very well by the staff. They gave all the necessary explanation and answered all of my questions.

The staff at Liv fertility was amazing! I was mid Ivf cycle and on vacation but required monitoring for medication adjustments. Gisel was able to coordinate with my Dr. In the states and arrange my appt. Dr. Horacio was very informative and professional. I recommend this facility for any puerto Vallarta or US individual going through IVF

very professional, with quite a lot of explanations about the baby
PERSONAL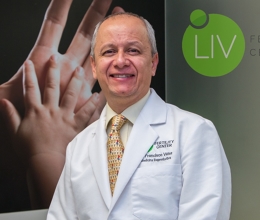 Dr. Francisco Velez Perez
Director Médico, Endocrinólogo de la reproducción
---
El Dr. Vélez, ofrece una atención integral, tanto para los pacientes de fertilidad femenina y masculina. Dr. Vélez es un experto en el tratamiento de infertilidad, incluyendo la fertilización in vitro e ICSI, y la preservación del óvulo.
Dr. Edna Hernandez
Especialista en Reproducción Asistida
---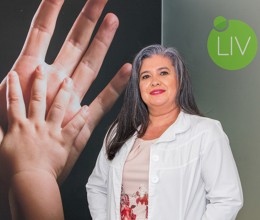 Dra. María Luisa Vázques Hinojosa
Anestesiólogo
---
la Dra. María Luisa Vázquez Hinojosa es anestesista y ha realizado investigaciones exhaustivas sobre la recuperación tras la anestesia; hoy aplica sus conocimientos para tratar a los pacientes de LIV.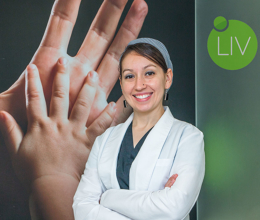 Karla Martin Del Campo Ruíz
Embriologa
---
Karla aporta su amplia experiencia al equipo LIV después de trabajar en la embriología y la infertilidad en diversos laboratorios desde hace varios años. Karla es poseedora de habilidades competencias las cuales combina justo con la atención al detalle y su nutrida experiencia en medicina reproductiva.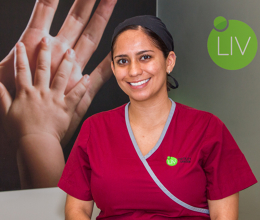 Yazmin Loya Munoz
---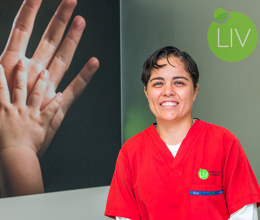 Enfermera Ana
Enfermera Profesional Certificada
---
Ana trabaja muy de cerca con los especialistas en fertilidad para ofrecer un cuidado continuo y un toque personalizado a su tratamiento.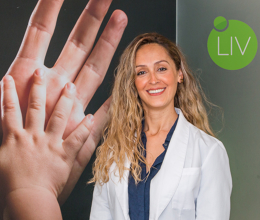 DR. Isaura Diaz
Psicología
---
Basado en mi experiencia, ser madre es uno de los mayores dones que la vida te puede dar - trabajar en un lugar que ayuda a mujeres y familias a cumplir este sueño es maravilloso y enriquecedor. Acompañar a los pacientes en el viaje hacia la paternidad es algo que la Dra. Díaz está muy emocionada pues entiende los miedos, dudas e incertidumbre que esta experiencia conlleva.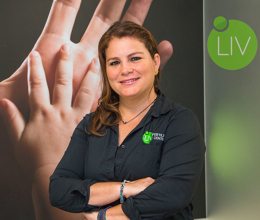 Gisel Soriano
LIV Patient Coordinator Manager
---
La Gerente de coordinación de pacientes en LIV, junto con los demás coordinadores y un equipo encargado de finanzas y asistentes médicos, lo guiarán paso a paso a través de su proceso con LIV.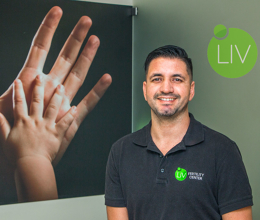 Alonso Marin
Coordinador Médico
---
El Centro de Fertilidad LIV está formado expertos en fertilidad de renombre mundial que han ayudado a multíples individuos a realizar el sueño de convertirse en padres. Alonso juega un papel integral en la coordinación de procemimientos en LIV.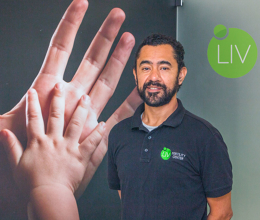 Sergio Gomez
LIV Journey Coordinator
---
Sergio se une a nuestro extenso equipo LIV que incluye un panel de Coordinadores de pacientes coordinadores clínicos experimentados así como especialistas en FIV de clase mundial.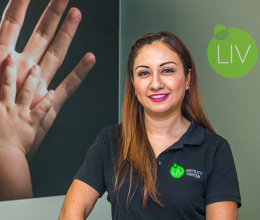 Anna Ramos
LIV Journey Coordinator
---
Anna se siente agradecida de trabajar en un campo gratificante, el cual le permite ayudar a los pacientes a formar familias y tener un impacto positivo en sus vidas.
Margarita Quintana
Massage Therapist
---
El masaje es una terapia natural que puede ayudarle a prepararse para su procedimiento de FIV y el futuro embarazo. Si usted está interesado(a) en aprender cómo la terapia de masaje puede mejorar la FIV y su salud, póngase en contacto con nosotros.am today.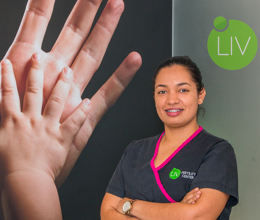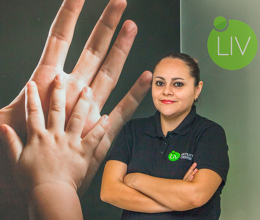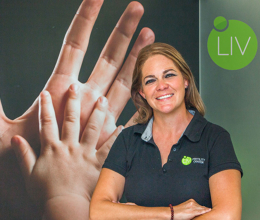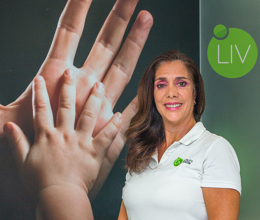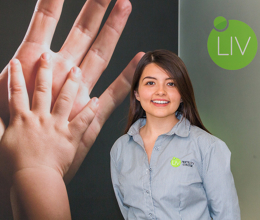 Andrea Medina
International Arrivals
---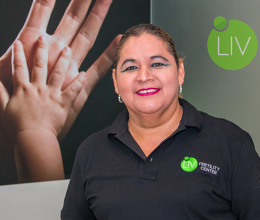 Sra Guillermina Diaz
Concierge
---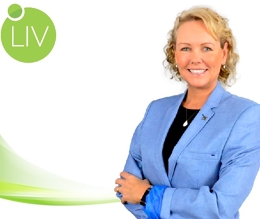 Sheri Burke
Patient Intake
---
Sheri is a member of our support team and she brings many years experience in patient coordination to help intended parents achieve their dream of parenthood. Sheri is proud to be a part of such a dedicated and devoted fertility team and she looks forward to being a small part of your journey.